Boxer Chef's Theme? MORE (clean) PROTEIN
Boxer Chef kept looking for more protein snacks that were less sugary and less synthetic. When he couldn't find any, he spent years perfecting his own. You can have it too. Boxer Chef protein snacks are a convenient anytime snack, good in small doses, as a crumbled topping, in shakes, or as a meal replacement. Boxer Chef loves them with coffee, pre or post workout, and in the great outdoors.
How about a re-closable container for snacking then packing, that's recyclable to-boot?!?!? Boxer Chef is intentional about friendlier packaging!
Persnickety about your protein? The Persnickety(TM) line is paleo! See Boxer Chef's product chart to confirm: soy, dairy, and gluten-free, as well as non-gmo, vegetarian, and vegan.
Whether at the gym, studio, office, coffee shop, or on the bike, road, or trail, Boxer Chef delivers the substance and protein you need, with a taste you'll crave. Boxer Chef protein snacks are never sugary, yet are rich with Omega-3s and fiber from nuts, seeds, and nut and seed butters. Smaller bites are recommended, along with your favorite beverage.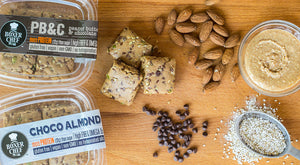 Subscribe to our newsletter
Stay up-to-date with new products and updates.